People who want timeless finishes in the European tradition, consult Bob Levey who was one of the most respected decorative finishers in Los Angeles before moving to Colorado's Roaring Fork Valley. While in Los Angeles, he developed clientele from among the city's most prominent citizens, architects and interior designers.
His company continues to create painted decoration for interior surfaces and furniture using a variety of techniques: faux marble, faux bois, glazing, sponging, strie, rehabilitation of and reproductions of antique furniture and finishes.
Levey and his professional team have talent, experience and a reputation for innovative and exciting specialty painting and finishing.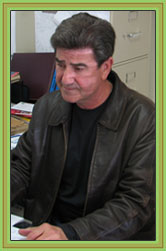 Bob Levey has had formal training in faux graining, faux marble and special finishes and also has experience as a painting contractor. Becoming fascinated with wood graining over two decades ago, he began collecting early volumes of painting decoration techniques written by masters of the nineteenth century. He experimented on his own with woodgraining and created tools to match the illustrations from his books.
Determined to move further into the field, Bob began formal training. Bob Coleman, a master grainer for the studios was his first instructor. His second was Gilbert Batty, an old world finisher and grainer from England who apprenticed in decorative finishing with his uncles and grandfather, disciples of the late great Thomas Kershaw (aka "The Prince Of Grainers") in the 1800's. Thus, techniques that were previously thought to be lost have been passed from Mr. Kershaw to Mr. Batty to Bob Levey.
After studying graining and specialty finishes, Bob turned to faux marble. He traveled to New York and spent intensive study time with Isabelle O'Niell's award winning pupil, Ina Marx.
From all of these sources and from his own innovative experimentation, Bob developed his own style and techniques. These are the basis upon which Bob Levey stands.
Bob is now retired in the Green Valley area playing drums and build furniture for his children and friends..